Anatomic connections of the diaphragm: influence of respiration on the body system
"A logical deduction is that the connection between the chest and the abdomen is an anatomic continuum, where the diaphragm plays a vital role in managing the information related to both cavities."
Abstract
The article explains the scientific reasons for the diaphragm muscle being an important crossroads for information involving the entire body. The diaphragm muscle extends from the trigeminal system to the pelvic floor, passing from the thoracic diaphragm to the floor of the mouth. Like many structures in the human body, the diaphragm muscle has more than one function, and has links throughout the body, and provides the network necessary for breathing. To assess and treat this muscle effectively, it is necessary to be aware of its anatomic, fascial, and neurologic complexity in the control of breathing. The patient is never a symptom localized, but a system that adapts to a corporeal dysfunction.
Full PDF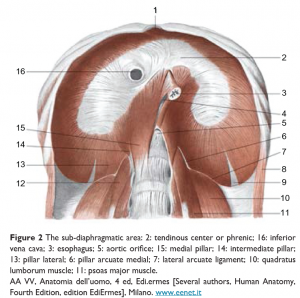 Here's some more research on the Diaphragm:
Roles of the Diaphragm you didn't know it had!
Role Of The Diaphragm In Function Of The Shoulder
(Video Inside) Role Of The Diaphragm In Stability & Movement Of The Shoulder
Effective Treatment of the Diaphragm for Patients with Low Back Pain and Postural Complaints
Ligamentous Articular Strain Technique for the Respiratory Diaphragm