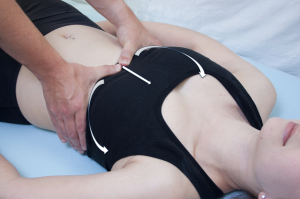 It's always great to see more research being done on the one muscle we use whether we are awake or sleeping (besides the heart). I've always disliked certain techniques for manually treating the diaphragm. Manual Therapists must understand the location of, and know what anatomy they are attempting to have contact with  to understand if they are having any effect on the Respiratory Diaphragm.
Please remember that Manual Therapists are not able to isolate one specific structure during treatment and that when we are attempting to treat the Diaphragm, we are also treating the surrounding tissues, organs and nervous system. Remember, everything works in series with one another.
Enjoy the Articles and a little video from my Shoulder, Thorax and Postural Courses where I instruct how I treat the Respiratory Diaphragmm.
1. Greater Diaphragm Fatigability in Individuals with Recurrent Low Back Pain.
The diaphragm plays an important role in spinal control. Increased respiratory demand compromises spinal control, especially in individuals with low back pain (LBP). The objective was to determine whether individuals with LBP exhibit greater diaphragm fatigability compared to healthy controls.
Individuals with LBP exhibit propensity for diaphragm fatigue, which was not observed in controls. An association with reduced spinal control warrants further study.
2. Postural Function of the Diaphragm in Persons With and Without Chronic Low Back Pain
CONCLUSION: Patients with chronic low back pain appear to have both abnormal position and a steeper slope of the diaphragm, which may contribute to the etiology of the disorder.
Ligamentous Articular Strain Technique for the Respiratory Diaphragm