Helping Incorporate Research and Manual Techniques into your Massage Therapy Practice!
So this caught my eye this morning!
This is an interesting report identifying another manual test for clinicians to incorporate into their testing for Adhesive Capsulitis.
Have a read through the Abstract, head on over to the Full Paper.
Then "come on back" here to watch my video (see Below) taken from my Online Shoulder Course instructing how to find the Coracoid Ligaments, when and why you should include them in not only your Adhesive Capsulitis treatments, but in your other shoulder complaint treatments.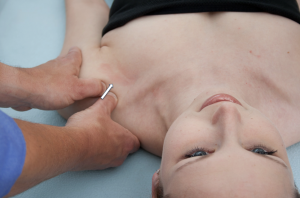 Abstract
Patients with adhesive capsulitis were clinically evaluated to establish whether pain elicited by pressure on the coracoid area may be considered a pathognomonic sign of this condition.
The study group included 85 patients with primary adhesive capsulitis, 465 with rotator cuff tear, 48 with calcifying tendonitis, 16 with glenohumeral arthritis, 66 with acromioclavicular arthropathy and 150 asymptomatic subjects.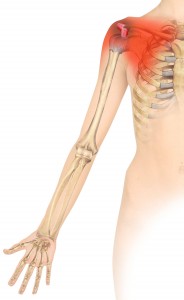 The test was considered positive when pain on the coracoid region was more severe than 3 points (VAS scale) with respect to the acromioclavicular joint and the anterolateral subacromial area. The test was positive in 96.4% of patients with adhesive capsulitis and in 11.1%, 14.5%, 6.2% and 10.6% of patients with the other four conditions, respectively. A positive result was obtained in 3/150 normal subjects (2%).
With respect to the other four diseases, the test had a sensitivity of 0.96 and a specificity ranging from 0.87 to 0.89. With respect to controls, the sensitivity and specificity were 0.99 and 0.98, respectively.
The coracoid pain test could be considered as a pathognomonic sign in physical examination of patients with stiff and painful shoulder.
Technique for Coracoid Ligaments (Conoid & Trapezoid)