Live, Love and Make a Difference
On a glorious warm sunny day in Vancouver, the weekend before the 3rd International Fascial Congress is to begin, different forms from various movement and therapy disciplines gathered like epiploic appendices into a small, intimate environment to watch, listen, and viscerally experience all that is Gil Hedley Phd.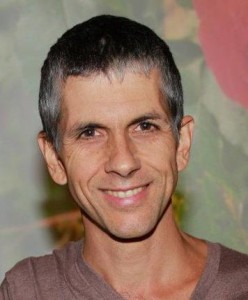 If you haven't yet heard of Gil, I suggest that you afford yourself the opportunity to either meet him in person during one of his many somanautical dissection classes, or purchase his series of cadaver dissection DVD's. You are truly doing not only yourself but also your patients a disservice in missing out on his wonderful perceptual changing educational material and experiences.
I was introduced to Gil a number of years ago attending one of his dissection courses. Later I was privileged enough to be asked to "assist" him in the courses. As many before and after me have come and gone in the courses, I'm blessed to be able to have him as a close friend these days.
For those forms that had never had the privilege to be part of a live Somanautical experience, they were about to have their self-perceptions and fascialneural intelligences of their potential abilities challenged.  Though many had arrived thinking that they were going to just sit quietly and look at glorious cadaveric photos, we all were soon engaged in a discussion that challenged our perceptual views as individuals, cultures and ultimately who we are as a species.
Gil is one of those few who regularly steps out side the bubble to look in. Actually, I think he lives outside the bubble we race our live in. It seems much more fun there…and real! Although he has been on a mission for over 12yrs now to bring the information stored within the cadaveric forms he dissects to us, there is the message to live fully, love openly and to make a difference. Today was no different.
The day began with Gil at the front of the room, full of expression and body writhing contortions demonstrating the potential of the fascia for both expression & movement. As per usual, the slide presentations prepared by Gil, projected glorious views of various cadaveric forms, family artistic expressions and fascia in its various forms and textures! We were being educated on the story of ourselves.
Tissues of Expression
"Who am I? What is my body?"
We are all asymmetrical nonlinear negative feedback forms that reside in a world that in all its power "problematizes" our various tissues in enterprisingly various ways. It's quite sad realizing just how much we as a species have forgotten where we have come from and just how much our fragile forms rely on and are all part of our surroundings. We have "problematized" not only ourselves, but also other cultures and the environment. Fear dominates the media. Our psyche, tissues, postures, forms, and functions convey this. We are all victims of Barbievication!
We listened as Gil reminisced of his decision at one point to "grow" to "develop" a more voluptuous superficial fascia aka superficial fatty layer. He then ungrew it, the full process requiring about 120-days! In a culture where the superficial fascia is feared, hated, shunned and disdained, to a point where people diet continually in some cases their whole lives just to adhere to a societal construct of unattainable perfection, Gil "grew" his out, for the whole world to see!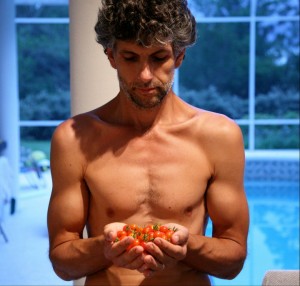 In many aspects he reflected feeling great, amazing, thriving in this form. Ultimately, once satisfied that he had experienced enough expressing himself through this tissue, he returned to his current tissue of expression, the deep fascia.
Which tissue(s) are you currently expressing yourself through? Which ever it is, remember that there are always consequences, effects, actions and reactions for your expressions.
Lesson of the day
Love your Fascia! Love yourself! Be happy within your tissues!
Come to a place of dignity, appreciation and respect for your tissues. Establish a loving relationship with them no matter which of them you are currently expressing yourself through. Have the same dignity, appreciation, respect and love for all others.
Fascia is truly amazing. We are told that your skin is your largest organ, yet weighing in at about 15lbs this hardly seems the largest compared with some superficial fascias can weigh in excess of 50+lbs.
Your Fascia is a transmitter, a receiver of frequencies (positive or negative) from the environment around you, from the people/forms around you. We move like water through currents, meandering and flowing through this world, separate yet interconnected in un-seeable ways. Just watch the morning traffic reports. We are herds migrating from A to B, no different than what you would see looking at wildebeests migrating in Africa. "Lemmings in shinny metal box's" – Sting
Concerning Treatments
The patients you treat, which tissues are they expressing themselves in? Can you see the connections from their psyche, their emotions, their tissues, their posture, their tissue functions throughout their whole being to their quality of life?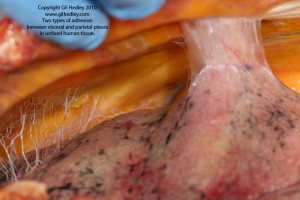 Which tissue(s) do you treat to improve all this? How? Do you force your way through a conceptual construct based on images of averages found within a colorful anatomy comic book portraying symmetrically perfect forms that do not exist? Or do you cooperate and melt with the tissues, recognizing that the tissue you are in contact with is also in contact with every fiber of being of the form that resides on your table for the next hour?
Feel the relationships not only of the layers, but also of the layers between the layers! You are always touching the wholeness, never a single tissue.
Symmetry should never be the goal concerning treatment. We all have illusions of false symmetry. The ultimate goal should be function over symmetry. Improve your patients' quality of life, allow them to play with their children, grandchildren, live an active lifestyle…go outside and play!
Ask your patients "what do you want to be able to do?" rather than "how do you want to look?"
Nature… it's in us!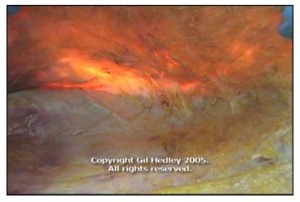 Intermingled with the exceptionally respectful images of the generously donated forms were views from nature, hitting home the obviousness that nature lives within us.
Quote:
"We are not cast out of the garden, the garden resides within us!"
The day continued, with many of us acknowledging that the current curricula of our formal educational, with its limited view of  "everything is separate" (flashcard origins & insertion points) needs to change to the reality that we are a fully loaded pizza – "one with everything!" Discussions continued making connections from one tissue to another, one system to another and so on. The intricacies of the connections must truly be experienced in "the lab" to grasp the full extent.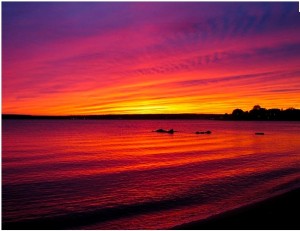 As with all good things, the end came far too soon. We were grateful to have had the opportunity to come to a place of peace, love, openness, and sharing. Even though we were all from varied establishments and experiences, we all left with a sense of community.
We had initially come with expectations of one thing, to leave having been stimulated, educated, & loved beyond all our expectations.
It was truly a glorious day to be in the presence of Gil Hedley.
Register Now!