Helping Incorporate Research and Manual Techniques into your Massage Therapy Practice!
For this of you who have Patents coming for treatment of their Functional Ankle Instabilities (FAI) Here's a couple of pieces of research you may be interested in.
The first piece  titled "The brain: A new frontier in ankle instability research" is from Alan R. Needle, PhD, an assistant professor in the Department of Health, Leisure, and Exercise Science at Appalachian State University in Boone, NC.
It was once thought that although normal stiffness may be restored to the ligament as it heals, the mechanoreceptors within the torn ligament remain impaired affecting the joint's proprioception—its sense of position, movement, and force which would delay the sensation of ankle rolling and subsequent reflexive responses.
There is evidence emerging documenting specifically that patients with ankle instability demonstrate less sensory traffic amplitude than patients with healthy ankles during the low-level initial application of anterior-posterior force. The deficits have also been observed in the the excitability of the reflexes to the lower leg, and motor excitability from the brain to the muscle.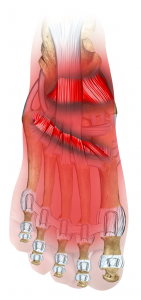 Patients with ankle injuries suffer from swelling which will increase pressure on the joint's mechanoreceptors, and pain will contribute to inhibition of the reflexes to the joint (arthrogenic inhibition). Together, this means patients will have difficulty sensing the joint and subsequently stabilizing it while excessive mechanical laxity will increase this loss of stability. A secondary cascade of neurological changes may occur that may include cortical remapping.
The recommendations from the paper are that Patients must be treated on an individual basis, and clinicians should target both mechanical and proprioceptive deficits as they are indicated for a particular patient.
The second piece of research discusses The role of ankle ligaments and articular geometry in stabilizing the ankle. "This study underscores the importance of restoring soft tissues about the ankle to the anatomic condition during reconstruction operations for instability, trauma and arthritis."
Here's a nice quick video from my Online Leg & Foot Course.
Enjoy!
This is a great technique to literally get your patients walking in the right direction!

Wendy's Foot Video