First let me say thank you so much for all your support and emails over the years. I really do LOVE getting emails from all of you asking questions, requesting live and online courses and catching some spelling mistakes along the way. These Live and Online courses would not exist if it weren't for you. The gratitude I have for you is beyond words.
2018 has seen some fantastic ups and some unfortunate unforeseen downs.
Read on to get caught up…
Australia Tour Down Under!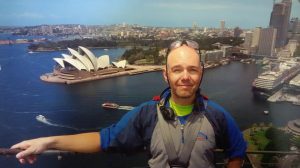 This year I had the amazing opportunity to serve the Massage Therapists of Australia. It was an AMAZING trip! The Therapists there were some of the most welcoming and inquisitive I've had the pleasure of meeting. Courses were taught in Gold Coast, Sydney, Perth and Canberra. I even had the opportunity to briefly speak at their AGM. Rebecca and Jenny and their staff of elves at The Association of Massage Therapists took very good care of me and my wife. It was a teaching trip of a lifetime and I look forward to seeing everyone down under again soon.
International Fascia Congress 2019 in Berlin and my MVA
Unfortunately and quite sadly I was forced to miss this event. Just 4 days before heading to Berlin, I was involved in a serious MVA. My car was a complete write off after being side impacted on the drivers side, and I sustained multiple fractures to 7 of my left ribs along with an atelectasis of my left lower lung. I am still completely devastated that I could not attend and instruct at this amazing event. 2 yrs of hard work and proposal writing was erased in an instant.
I am extremely thankful to the manual therapy community globally for of their support and encouragement during this extremely challenging time. This recovery will be a long road. My passion for our profession and for helping patients in pain and dysfunction globally drives me to recuperate and continue my journey.
New Ligament Pain Referral Pattern Posters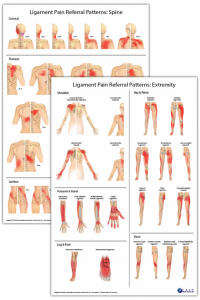 After a year long research and literature review, NEW images have been developed to reflect the research and a NEW posters design its completed! The research documenting these patterns has been published in scientific journals such as Spine, BMC Musculoskeletal Disorders, The Clinical Journal of Pain and many others.
You can now purchase your NEW posters either as a set or individually.
New Online Certificates!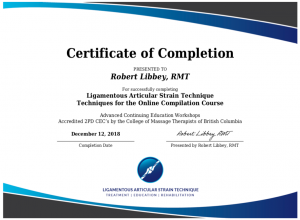 Up until now, whenever a therapists completed their Online exam for CEC's from one of my Online Courses, I would have to generate their "Certificate of Completion" manually and email it to them. As you can imagine, this was time consuming and sometimes there were delays.
AS Of NOW, ALL online course exams, are link to their respective "Certificate of Completion" and are all linked to their respective logos for all courses, for every regulatory body I've received accreditation for!
Everything has been tested and works perfectly.
Once you have completed a course, proceed to the Conclusion Section where the online exam is located. Once on the main exam page, simply choose your Regulatory Body Logo to take your exam. Once you have successfully completed your exam, you will immediately be taken to a final page where you will be able to print your "Certificate of Completion." You will also receive an emailed certificate to print or submit to your regulatory body for CEC's. I've even created a BRAND NEW certificate design to help stand out from the typical generic certificates.
Please note that each Regulatory Body has accredited courses individually and CEC amounts are specific to each Regulatory Body.
If your Regulatory Body has not yet provided accreditation for this course, please contact me and I will submit the required documentation. For now, please select the "Universal Certificate."
LIVE Mentorship Dates for 2019

I'll once again be instructing my LIVE LAST Series.
Initially when I began instructing, the live courses were mainly about instructing the manual techniques, demonstrating the amazing effects they have and discussing the research supporting them. today, I've incorporated Biopsychosocial perspectives into how the techniques are applied. In the classes we also discuss how we as manual therapists approach our patients, communicate with them, build relationships with them and expand the terminologies and explanatory stories we use. We know and have known for a long time that if you want to improve your outcomes, or in other words, improve the quality of life of your patients, building a relationship built on mutual trust and honesty, what you say and how you say it, is just as important as what you do.
You can find my live dates for Vancouver here!
If you would like a course taught in your area, please feel free to contact me and we will make it happen!
Ireland Dates!


In 2019 I'll be heading to Ireland to teach for the first time! Last year while in Scotland, I had the pleasure of having Aubrey Going (IMTA President) in my class. I was excited about how similar of career paths we had and immediately wanted to serve the IMTA membership.
If you are interested in making it out to the Ireland Course, you can Register Here!
That's all the excitement for 2018 so far. I'll have more LIVE Dates for you as they are confirmed.
If you don't hear from me, please have a very safe and warm Christmas and a Happy New Years!
Robert